If your new home is under construction, then make sure you pay equal attention, if not more, to your property's roofing system, typically because your roofing not only increases your curb appeal but also the home's performance. That's right; your roof acts as the first line of defense in protecting you and your home's interior from the harsh weather elements.

Now, when it comes to roofing, the options are endless. Let's take a closer look at the different types of materials for roofs that you can find in stores: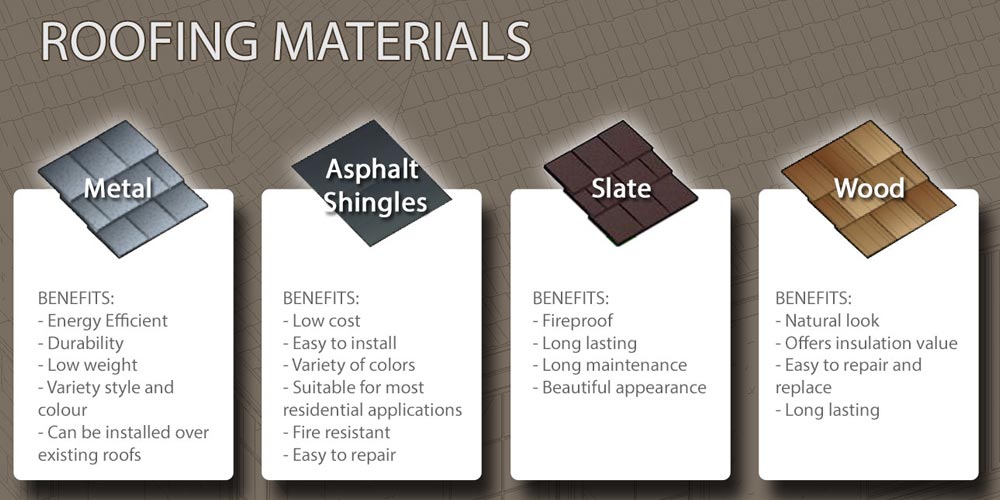 Asphalt Shingles
These are the most popular roofing materials for many reasons. They are cheap, easy to install and asphalt shingles usually come with a 25 year warranty which means it's unbelievably durable and long-lasting. Besides this, asphalt shingles can be coated to lower lichen and moss growth. With asphalt shingles, you can increase the aesthetic appeal of your roof while ensuring weather proofing.

Wood
Mostly made from redwood, pine and cedar, wood shingle roof tops look exceptionally beautiful. Although they are much higher in cost in comparison to asphalt, they provide home owners with excellent resistance from weather elements like strong winds, heavy rains, snowstorms and hail storms.

Wood roofs are also energy efficient. They provide a natural insulation up to 2 times that of asphalt shingles. With this roofing system, you can easily reduce your energy bills and save thousands of dollars.

Metal Roof
If properly installed, a metal roof made from aluminum, copper or steel can last a lifetime. And that's not an overstatement. This type of roofing is resistant to fire, rot, insects and mildew and paint finishes usually come with a 30 year warranty.

Slate Roof
Home owners are drawn towards slate typically because of its visual appeal. It looks classy and stylish. And in terms of longevity, a slate roof can last 150 years, but it's not the best type for insulation purposes.

So, before you finalize your roof material, make sure it offers you the benefits that you are most interested in! Good Luck.
Contact us